Company history:

Crosman was founded in 1923 in Rochester, New York, as Crosman Arms Company. At that time all Crosman made was air guns (not Airsoft). During the 1950's, significant growth occurred, driven by national accounts such as Sears Roebuck & Co., Montgomery Ward, and Western Auto. All sold Crosman's products under their respective brand names. Then, in 1966, Crosman introduced its own Crosman branded airgun, the Pumpmaster 760, selling for $27.95. Today the ever-popular Crosman Pumpmaster Model 760 still sells in the same price range, with more than 13 million rifles sold. In 1971, The Coleman Company, Inc. acquired Crosman. Subsequently Crosman's principal manufacturing facilities were moved to the current location in East Bloomfield, New York, about 30 miles south of Rochester. Throughout the 1970's and 1980's, the emerging strength of mass merchants, including Kmart and Wal-Mart, fueled Crosman's growth.
In August 1990, Pexco Holdings, Inc. acquired Crosman, making the company a 95%-owned subsidiary. Subsequent to the acquisition, Crosman implemented a long-term strategic plan designed to preserve its position as an entry-level producer, while accelerating the company's growth toward "world-class" manufacturer status. To broaden the company's reach, strategies were developed and implemented to significantly expand Crosman's international market penetration.
Crosman acquired the Visible Impact Target Company in July 1991, as well as the Benjamin Sheridan Corporation in February, 1992. Benjamin has continued as a dominant U.S. manufacturer of high-end pneumatic and CO2 powered airguns. Sheridan was one of the world's foremost manufacturers of high quality paintball markers.
In 1994, the Benjamin Sheridan manufacturing operations, then in Racine, Wisconsin, were consolidated into Crosman's East Bloomfield facility. During 1995-96, Crosman introduced several new, innovative products into the spring air powered airgun market to complement its traditional strength in the pneumatic and CO2 powered airgun markets.
In January, 1997, Crosman was acquired by an investment group whose renewed focus on market expansion, new product development and leveraging the company's core competencies of design, manufacturing, and distribution to new areas of business, re-energized Crosman. Later in 1997, Crosman entered the steel shot business and, in 1998, introduced its first camping accessory product, the Pressuremate pressurizing system for white gas lanterns and camp stoves.
In 1998, to leverage its position in the growing paintball and related products market, Crosman formed the Sheridan Paintball Division. In 1999, Sheridan tripled the number of products offered and became a full-line supplier, improving its ability to effectively compete in the paintball business.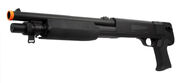 With the new millennium came the Crosman Challenger 2000®, an affordable, three-position, CO2 powered, competition target air rifle. Crosman now had a strong entry in every major segment of the airgun market. Also in 2000, Crosman entered into a partnership with USA Shooting, the organizing body for competitive shooting sports in the United States.
In 2001, Crosman formed a joint venture with Procaps to form Diablo Marketing to more effectively penetrate the non-conventional paintball market, including big box and chain stores, with paintball markers, ammunition and related products. And, in 2002, Crosman also created the Game Face Paintball brand to market paintball markers, paint, clothing and accessories. It also introduced its first line of Soft Air pistols, designed for low-impact, recreational target shooting.
In 2003, Crosman continued its strategy of becoming a one-stop-shopping opportunity for retailers and became the US distributor for Umarex airguns. Also in late 2003, Crosman introduced the first US designed and manufactured break barrel air rifle, the Benjamin Legacy 1000 and Legacy 1000 X, two state-of-the-art models featuring 26-pound cocking pressure and muzzle velocities of up to 1000 feet per second. In addition, the company introduced AirSource™, the new 88-gram disposable CO2 tank for paintball and airgun use.
In 2004, Crosman broadened its offering in both the break barrel air rifles and rapidly growing soft air market by introducing several innovative new models in both categories. And, in 2005, adding to its list of firsts, Crosman introduced the Nightstalker, the first semi-automatic air rifle featuring realistic blowback action, making it more authentic and exciting to shoot.
In 2007, the company broadened its line of air pistols and expanded its offering outside the traditional airgun category with the debut its new optics division, CenterPoint Precision Optics, and established stronger distributor relationships in a number of major international markets.
In 2008, Crosman diversified further adding Crosman Archery to its list of branded products. Crosman Archery introduced two new hunting crossbows in addition to youth archery products at the 2008 SHOT Show in Las Vegas, NV.
Also in 2008, Crosman introduced the industry's first affordable, pre-charged pneumatic (PCP) air rifle at 2000 psi, the Benjamin Discovery.
In 2009, the company continued to build on the success of the Benjamin Discovery with the launch of the Benjamin Marauder, a revolutionary new, multi-shot, bolt action rifle with a two-stage, adjustable, match grade trigger and an ultra-quiet internal shrouded barrel. Crosman also bolstered its line of premium airsoft products with distribution agreements with Classic Army and Spartan Imports, adding high-end, skirmish grade, 1:1 scale replica airsoft guns to its line.
Late in 2009, Crosman announced the formation of two new divisions. The CenterPoint Hunting and Outdoors Division, focused on providing the hunting industry with high quality crossbows and crossbow accessories, as well as precision riflescopes and other feature-rich optical products for shooting. The new Game Face Airsoft Division introduced the revolutionary new Verdict Marker BBs for airsoft play and three new, skirmish-grade airsoft rifles.
Today, Crosman Corporation is an international designer, manufacturer and marketer of Crosman pellet and BB rifles and pistols, Copperhead ammunition, high quality Benjamin pellet rifles and ammunition, airsoft rifles and pistols, crossbows and precision optics. The company employs more than 300 people domestically, markets its products around the world and is seen as a leader in the airgun industry.

Crosman info (for Airsoft players):
When it comes to Airsoft, Crosman makes very low quality products. They may look good, and have metal outsides on some of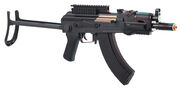 them, but the inside parts are what really matter. Almost all of the Crosman guns have a cheap plastic gearbox, and low quality parts. Crosman products are also overpriced in lots of cases. Although there are a few guns that Crosman has that would be worth looking into as a back-up or loaner weapon. The best choice would most likely be to buy a gun from a different company.

Notable crosman guns:
Community content is available under
CC-BY-SA
unless otherwise noted.